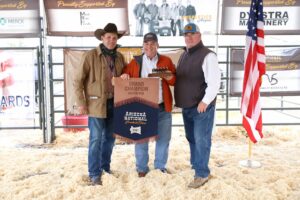 The Ranch Replacement Heifer Show and Sale, chaired by Clay Parsons and Rick Lehman of the Marana Stockyards, provides an opportunity for Southwestern Cattle Ranchers to showcase the best replacement females representing their respective genetic programs. These superior, Southwestern-raised heifers are guaranteed to work in tough, southwest environments and produce calves each year that fit real world agriculture.
Consignors and buyers are treated to a barbecue lunch at noon, with the sale following at 1:30 p.m.
Show Specifics
Consignments received as pens of three ranch-raised, commercial, replacement-quality heifers. All purebred and crossbred entries will be subjected to a rigorous pre-show sift.
Fast Facts
Limited to 20 pens of superior, range-ready cattle
Four Divisions

European – British Breeds

Age-Appropriate Open or Bred Females

American Breeds

Age-Appropriate Open or Bred Females

Cash Premiums & Awards

Division Champion and Reserve Champion Pens
Supreme and Reserve Supreme Champion Pens

Sale Order

Sale offering, order determined by show committee
Proudly Sponsored by:
For more information on the Working Ranch Horse Competition click here.