Replacement Heifer and Commercial Bull Show and Sale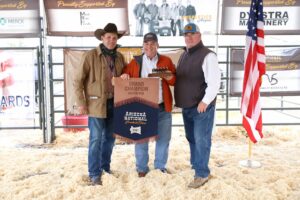 Replacement heifer and commercial bull grading are important processes in the cattle industry that help farmers and ranchers assess the quality and suitability of cattle for breeding and production purposes. These grading systems are used to make informed decisions about which animals to keep for breeding and which ones to sell for meat production.
Replacement heifer grading involves evaluating the quality of young female cattle (heifers) to determine which ones are suitable for breeding and future herd improvement. The goal is to select heifers that will contribute positively to the genetics and productivity of the herd. The grading process typically considers conformation, health, reproductive health, age, size, pedigree/genetics and disposition. Once these factors are evaluated, heifers are assigned a grade or categorization based on their suitability for breeding. Those that meet the desired criteria are retained as replacement heifers, while others may be sold for meat production.
Commercial bull grading involves evaluating male cattle (bulls) that are intended for breeding purposes in a commercial cattle operation. The objective is to select bulls that will improve the genetics of the herd and contribute to better calf quality and overall productivity. Commercial bulls are typically categorized based on their quality and suitability for breeding. High-quality bulls are retained for breeding purposes, while others may be sold for meat or culled if they do not meet the necessary criteria.
Both replacement heifer and commercial bull grading are essential for maintaining and improving the genetic quality of a cattle herd, which ultimately contributes to the long-term success and productivity of a cattle operation.

The Ranch Replacement Heifer Show and Sale, chaired by Clay Parsons and Rick Lehman of the Marana Stockyards, provides an opportunity for Southwestern Cattle Ranchers to showcase the best replacement females representing their respective genetic programs. These superior, Southwestern-raised heifers are guaranteed to work in tough, southwest environments and produce calves each year that fit real world agriculture.

Consignors and buyers are treated to a barbecue lunch with the sale to follow.
Show Specifics
Consignments received as pens of three ranch-raised, commercial, replacement-quality heifers. All purebred and crossbred entries will be subjected to a rigorous pre-show sift.
Fast Facts
Limited to 20 pens of superior, range-ready cattle
Four Divisions

European – British Breeds

Age-Appropriate Open or Bred Females

American Breeds

Age-Appropriate Open or Bred Females

Cash Premiums & Awards

Division Champion and Reserve Champion Pens
Supreme and Reserve Supreme Champion Pens

Sale Order

Sale offering, order determined by show committee
Proudly Sponsored by:
For more information on the Working Ranch Horse Competition click here.