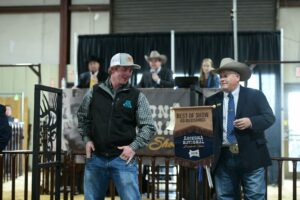 The Ag Mechanics Contest and Silent Auction
This competition is open to any exhibitor that is 19 years of age or younger on January 1. This is a great chance to show off your trade skills! Want to earn some money? We've got you covered. You have the option of submitting your project to the Silent Auction to be sold at the show. And… a portion of the proceeds goes towards the Arizona National Scholarship Program. See… win, win!
The project selected as Best of Show will be auctioned at the Show Dedication on December 27.
Showcased in the Cowboy Classics, everyone who attends the show is invited to view your hard work and talents, and participate in the silent auction.
Contest Divisions:
Ornamental Welding / Cutting Project
Woodworking
Small Metal Project
Large Metal or Wood Project
Check out the Premium Book for the most up to date information