The Arizona National Livestock Show Ambassador Program allows students to serve as a spokesperson for the organization at county fairs, agriculture industry and community events for a one-year term, and earn a $2,000 scholarship for their service. In addition to the scholarship, Ambassadors are reimbursed for mileage and overnight accommodations when required to travel to approved events.
Ambassadors remain eligible to apply for additional scholarships through the Arizona National Livestock Show Scholarship Program.
Meet the Ambassadors, Present and Past
ARIZONA NATIONAL AMBASSADOR – PALOMA FAJARDO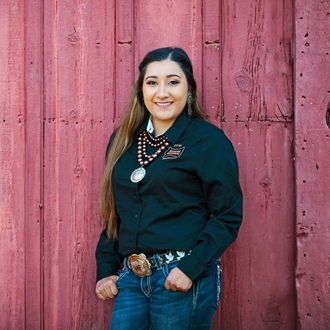 My name is Paloma Fajardo, and I am both excited and honored to be serving as the 2016-2017 Arizona National Livestock Show Ambassador. I have been given the opportunity to promote Arizona Agriculture and Livestock, and hope to see you all at the 2016 Arizona National Livestock Show and 2017 Arizona National Horse Show.
I was born in Chandler, Arizona and raised in Laveen, Arizona, but have always been surrounded by agriculture. From roping, to showing livestock, and working at the dairies or fields with hay. I have always had a part in agriculture. My grandfather Fred Chavez Sr climbed the ropes of life as a farm worker, to hay trucking owner, cattle broker, to one of the top hay brokers in Arizona. By his side my grandmother Rose Gill-Chavez was born to a farmer in Yuma, Arizona. Her farm in Yuma, Arizona is still in operation today. My grandmother was a 4-H leader of the Glendale Beef Club in the 1970's. It is safe to say that agriculture runs through my veins and is instrumental in my life today. Along with all the cattle involvement I have a background in rodeo. I was on a horse before I even learned how to walk. My grandfather and father Henry Fajardo were very involved in the team roping industry. We have also been apart of the Westside Posse, USTRC (United States Team Roping Championships), and World Series of Team Roping. The cattle business came natural to me with my grandparents background and the support of my parents Henry and Jean Fajardo. My mother Jean Chavez-Fajardo also showed livestock and got my brother Marc Chavez and myself involved in our own 4-H projects. I have shown through Laveen Beef and Eastside Kids 4-H Club where I was very involved and served as a Secretary for our club for three years. Over the years I became very involved with the Maricopa County Fair, Pinal County Fair, Arizona State Fair and Arizona National Livestock Show. I have helped in the office, the ring, livestock judging, and helped mentor other exhibitors. I have showed at the Arizona National Livestock Show for ten years as a junior exhibitor and three years as an open exhibitor. One of the most honorable momenst at the Arizona National Livestock Show was being awarded as the 2015 Rose Mofford Outstanding Exhibitor Award.
I am a current Central Arizona College student enrolled as an Agriculture major. My plan is to complete my work at Central Arizona earning an Associates in Arts of Agriculture with plans to pursue my Bachelor's of Science in Animal Science and Equine Science at the University of Arizona.This foundation in strong academic education will allow me to accomplish my goal of opening an Equine Aqua Therapy clinic and pursue my passions in large animal breeding focused on responsible practice and business management.I have grown up in the world of agriculture which first sparked my desire to pursue my passions in the industry. My love of the industry is further fostered by my involvement in FFA Field Days at Central Arizona, Agriculture Club, and the mentorship of young showman.
I am very grateful for the opportunity to serve as the Ambassador for the Arizona National Livestock Show. Serving for an organization that has helped shape me into the person I am today is without a doubt an honor. In addition to the Ambassador scholarship I am grateful for the additional scholarship from the Horse Lovers Foundation and I encourage all exhibitors to apply for these opportunities which are found on this website and due in March.
I am excited to be working and networking with you all throughout the year at events and the 2016-2017 Arizona National Livestock show.
YOUTH AMBASSADOR PROGRAM
The Youth Ambassador position is an exciting new role for youth competing at the Arizona National Livestock Show. During the show, the Youth Ambassador actively assists with events and promotes exciting opportunities throughout the week in which youth exhibitors can become involved.
Sponsor the Ambassador Program

 Sponsorship Packages
Apply to the Program
To be considered for the Ambassador Program, applicants must:
Complete the Arizona National scholarship application
Mark "Ambassador Program" on the application
Submit the application by March 15th
Eligibility Criteria
High School Graduate
At least 18 years of age
Demonstrated involvement in agriculture related pursuits
Enrollment as a full time student (12 hours minimum) at an Arizona College or University throughout the Ambassador term.
Participation in the Arizona National Livestock Show
Available to fulfill the responsibilities of the Ambassador